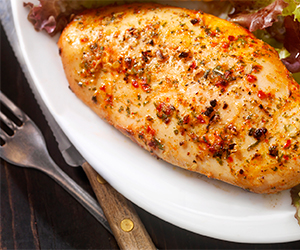 Since chicken is usually well tolerated after gastric sleeve, gastric bypass, and lap band surgery, bariatric patients tend to cook it often. Chicken breast is a very versatile protein that can blend in with different ingredients and different flavors to make you forget you just ate it yesterday. Instead of cooking new chicken dishes everyday, some people cook chicken in bulk and reuse the leftovers in different and creative ways.
This recipe for Everyday Baked Chicken is easy to make and cooks up nice, juicy chicken. The spice blend used is mild and blend into other recipes easily. The trick to this recipe is to bake the chicken on high heat for a short amount of time. For bariatric patients, baking is a better method of cooking than frying. The oil used for frying adds unnecessary fat and calories, which can add up quickly for bariatric patients on a low calorie diet for weight loss. Instead, bake your chicken and save your calories for foods that help you maximize your nutrient intake.
If you make extra portions of this Everyday Baked Chicken, leftover cooked chicken breast cutlets can easily be transformed into different lunches or dinners. You can chop or shred the chicken to use for enchiladas, tacos, or nachos. Slice it and add it to a vegetable packed green salad or caesar salad. Reheat the chicken with a pesto sauce and top it with a small amount of pasta or zoodles. Add some chicken slices to a wrap with hummus and vegetables for a quick lunch. You can dice the chicken and toss with black beans, roasted corn kernels, and chopped avocados for a Mexican flair. The possibilities are endless.
Everyday Baked Chicken
From www.motionmom.com
4 boneless, skinless chicken breasts
1 tsp salt (kosher salt works well)
½ tsp black pepper
½ tsp onion powder
½ tsp garlic powder
½ tsp oregano
½ tsp paprika
Spray oil
Directions:
Preheat oven to 425.
While oven is heating, mix all dry spices together.
Spray a pan with oil. Place chicken in the pan.
Sprinkle half of the spice mixture on the chicken breast tops and rub in with your hands.
Flip chicken over and rub in the rest of the spice blend.
Bake in the oven for 10 minutes, flip and bake for 10 more or until cooked through.
These meal ideas are offered by Dr. Shillingford, M.D., P.A., a board certified surgeon specializing in laparoscopic and obesity surgery. Dr. Shillingford's gastric sleeve, gastric bypass, and adjustable lap band patients are often seeking meal ideas that are quick, easy, and high in protein to help support their weight loss goals. Many of Dr. Shillingford's patients come to his Boca Raton office from surrounding towns, such as Delray Beach, Wellington, Miami, Fort Lauderdale, and Hollywood. An increasing number of bariatric patients have also been traveling in from different states, including New York, New Jersey, Ohio, Minnesota, Texas, Georgia, and even Hawaii.