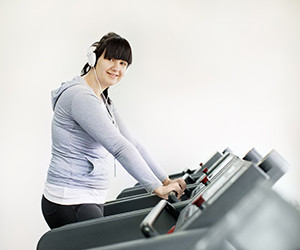 These days a phone is more than a phone. It's a computer, bank, organizer, alarm clock, and music player, too. Take advantage of your phone's music playing capabilities for your benefit. Research shows that listening to music while exercising can elevate mood and make a workout seem easier. Since exercise is a priority in helping bariatric weight loss patients achieve their weight loss and health goals, music may be instrumental in helping gastric band, gastric sleeve, and adjustable lap band patients maintain or increase their workout routines.
Even if you have access to your choice of music on your phone, pressing shuffle play may not be the solution you're looking for. You will likely hear slow songs, songs that you don't particularly enjoy, or even songs that slow you down. In order for your music to energize your exercise, consider making a workout playlist.
Here are a few ideas for creating the perfect workout playlist:
Choose a warm up song. Your first song should get you in the mood for exercise, but not strain your muscles right away. A long song is good, as it gives you time for stretching and easy movements.
Choose songs with a strong, catchy beat. Prominent percussive and rhythmical features and an uptempo beat can get you in a workout rhythm that keeps you going.
Sad songs will likely get you down, so choose songs that conjure up happy thoughts. It might be the words themselves that perk you up or the memories the song evokes, but either way choose songs that make you happy. Strong, motivational lyrics that make you feel good about yourself can keep you going longer and stronger.
Make your playlist as long as or longer than your workout. You may get bored if the music repeats, so make the playlist at least as long as you intend to exercise. Making it a little longer gives you the opportunity to extend your workout or cool down period.
Don't let the music or volume distract you so much that it puts you in danger. You still need to pay attention to the changing treadmill as well as your own body. If you work out outside, you still need to hear the goings on in your surroundings. Car horns and traffic may not be motivating to your workout, but they are important in keeping you safe.
Once you've got your workout playlist all set up, grab headphones and get moving! Try it out, see how it goes. If you notice your performance slipping when a particular song comes on, take that song off. If you find yourself picking up your pace when another comes on, see if you can find similar songs and add them to your playlist. Playlists can be fluid, you change it as often as you need to, or create different playlists for different types of workouts. Whatever music you choose, let it motivate you to feel good about yourself and the fact that you are doing something positive for your health.
The above suggestions for making a workout playlist are offered by Dr. Shillingford, M.D., P.A., a board certified general surgeon who specializes in laparoscopic and obesity surgery. Dr. Shillingford's practice is located in Boca Raton, Florida. His sleeve gastrectomy, gastric bypass, and adjustable lap band patients often come from all over Florida including Fort Lauderdale, Miami, Miami Beach, Wellington, Tampa, West Palm Beach, and Orlando. In addition to offering bariatric surgery and follow up appointments, Dr. Shillingford encourages his patients to make positive changes in their lives to help them achieve their weight loss and health goals. Finding time for exercise and making it an enjoyable part of your life can help you feel good about yourself and help you achieve your wellness goals.