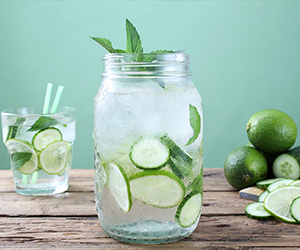 It is hot in South Florida, and that means one thing: hydrate! Having enough water is crucial for everyone, but staying hydrated is essential for bariatric patients. With a reduced stomach size, gastric sleeve and lap band patients may have to sip smaller amounts of water more often than their nonsurgical cohorts to get the same amount of liquid to stay adequately hydrated.
One way to encourage hydration is to make your water extra delicious. Fruit infused water is a great idea for bariatric patients because you get tasty tasting water without all the calories of juice or soda. At 7 calories per cup, this fruit infused water barely registers a blip in your overall daily calories, but it can provide vitamin C, antioxidants, and enzymes that leach into the water from the flesh of the fruit as well as the rind.
You can change up the fruits or vegetables based on what's available in your kitchen, but this recipe provides a citrusy mint flavor that tastes hints of summer. This is easy to make using a fruit infuser, but if you don't have one, don't worry- just use a container with a lid that will retain the cut fruit in the water to enhance the infusion as the day goes on.
Fruit Infused Water
½ gallon water
½ lemon, sliced
½ lime, sliced
½ grapefruit, sliced
2-3 mint leaves, torn
½ cucumber, sliced
Add all fruits and vegetables to the water in a large container or fruit infuser and refrigerate for at least an hour. Discard any remaining infused water at the end of the day and make a new batch in the morning.
By drinking water for hydration and saving calories for ensuring adequate protein, carbohydrate, fiber, vitamins, and minerals from food, gastric sleeve, gastric bypass, and lap band patients can stay at or under their total calories and more easily promote weight loss.
The above is offered by Dr. Shillingford, M.D., P.A., a board certified surgeon specializing in advanced laparoscopic and obesity surgery. Dr. Shillingford's gastric sleeve, gastric bypass, and lap band patients come to his Boca Raton office from all over Florida, including Delray Beach, Wellington, Fort Lauderdale, Miami, Miami Beach, Port Saint Lucie, Jacksonville, and Tampa.