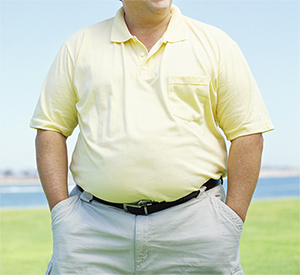 The 2018 State of Obesity report was released in September. The American Heart Association's CEO Nancy Brown released this statement based on the report: "This year's State of Obesity report presents a stark illustration of the toll the obesity epidemic continues to take on our nation. A record number of states-seven-report adult obesity rates of at least 35 percent."
Is your state one of those seven states?
According to the report, every single state reported that at least 20% of adults are obese, and no state reported a declining rate of obesity. This is not good news. What's worse is that seven states reported obesity rates over 35%. Alabama, Arkansas, Iowa, Louisiana, Mississippi, Oklahoma, and West Virginia all reported their adult rates of obesity over 35%. This means that more than 1 out of every 3 adults are obese in these seven states, all of which are found in the midwest or southern part of the country. One state takes the title of the highest rate of obesity in America: West Virginia at 38.1%.
What does this mean?
Obesity rates in America are getting worse. Again, no state reported a decline. Obesity continues to be a growing issue that despite the light that is being shed on the causes of obesity and the possible solutions, obesity rates are not improving. Adult obesity puts millions of Americans at a higher risk for chronic diseases (such as hypertension, type 2 diabetes, sleep apnea, and cancer) and accounts for billions of dollars on healthcare each year.
What can you do?
If you are not classified as obese (your BMI is below 30), maintain your weight at or near a normal range to maintain your lower risk of several chronic diseases. If your BMI is over 30, weight loss is generally recommended. If you don't know your BMI, calculate it with Dr. Shillingford's BMI calculator. If you have tried to lose weight and have been unsuccessful, you may be a candidate for bariatric surgery. Gastric sleeve, gastric bypass, and lap band surgeries are regarded as the most effective way to lose weight and keep it off. Weight loss can improve blood pressure, blood sugar, cholesterol levels, and improve mobility to help people lead a healthier lifestyle.
Dr. Shillingford, MD, PA is a board certified surgeon specializing in weight loss surgery. His gastric sleeve, gastric bypass, and gastric band patients receive top notch care at Northwest Medical Center's Center of Excellence in Bariatric Surgery, where Dr. Shillingford serves as Medical Director. His bariatric surgery patients often come from Miami, Fort Lauderdale, Boca Raton, Orlando, and Jacksonville, but many also come from other states including many southern and midwestern states for his affordable self pay pricing. Dr. Shillingford also accepts many health insurance policies. To schedule your free informational session or your surgical consultation, call Dr. Shillingford's office today at (561) 483-8840.