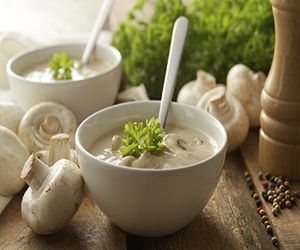 With Mother's Day on the way, you may be thinking of your menu. Creamy Crimini Mushroom Soup is a good way to tell the moms in your life how much you care about them by treating them to a heart healthy, vegetable based, delicious soup. This soup works well for a brunch or lunchtime menu, and also as an appetizer or side for a dinner course. It's fairly easy to prepare once your vegetables are cleaned and chopped (this can be done ahead of time). The creamy soup pairs nicely with other menu items, such as quiche, sliced ham, chicken, fish, gourmet grilled cheese, or come up with your own idea for a protein. The addition of dried mushrooms and their broth will kick this soup up to the next level (dried mushrooms are often a staple ingredient in the pantry of world renowned chefs). Crimini mushrooms have been found to surpass more exotic mushrooms, like shiitake, in terms of their immune system benefits and anti inflammatory properties. What's more is that mushrooms are a low calorie food that also have cardiovascular benefits, and may also be helpful for women at risk for breast cancer. This delicious soup is more than just a treat for the taste buds, it's like a nourishing elixir for the whole body, and a tasty way to show someone how much you care about them.
Creamy Crimini Mushroom Soup (Serves 10)
Preparation time 20 minutes / Cook time 35 minutes
1oz mixed dried mushrooms
2 tbsp olive oil
1 medium onion, chopped
2 scallions, minced
1 medium shallot, minced
1 celery stalk, diced
8 cups (about 1 ¼ lb) crimini mushrooms, stemmed, cleaned, and sliced
1/8 tsp red pepper flakes or more to taste
¼ tsp kosher salt
¼ tsp freshly ground black pepper
2 tbsp all purpose flour
3 cups reduced-sodium low fat chicken broth
½ cup dry sherry
½ cup nonfat sour cream
2 tbsp finely minced fresh chives
Directions:
Add the dried mushrooms to a heatproof bowl. Pour the hot water over the mushrooms and set aside.
Heat the olive oil in a large pot over medium heat. Add onion and shallot and saute for 5 to 6 minutes, until soft. Add scallions and garlic and saute for 1 to 2 minutes. Add celery and saute for 2 minutes. Add fresh mushrooms and saute for about 5 minutes, just until the mushrooms are about to give up their liquid. Add red pepper, salt, black pepper, and saute for 1 minute. Add the flour and stir, completely coating the vegetables.
Pour in the chicken broth and stir.
Drain the dried mushrooms, but reserve the liquid (don't save any sediment at the bottom). Rinse the reconstituted mushrooms in a colander to clean off any remaining grit. Chop coarsely and add them and to the reserved liquid to the pot. Add the sherry. Bring to a light boil. Lower the heat to simmer, cover and cook for 20 minutes.
Using an immersion blender, blend the soup until smooth. Or add the soup, in batches if necessary, to a blender or food processor and puree until smooth. Return the soup to the pot and fold in sour cream. Ladle the soup into bowls and top with minced chives.
This recipe is offered by Dr. Shillingford, M.D., P.A., a board certified surgeon specializing in laparoscopic and obesity surgery. Dr. Shillingford's gastric sleeve, gastric bypass, and lap band patients come from all over South Florida including Boca Raton, Delray Beach, Wellington, Boynton Beach, Miami, and the surrounding Fort Lauderdale area. Dr. Shillingford's bariatric patients are often seeking recipes that not only good taste good, but are good for them and won't override their efforts at weight loss. Creamy Crimini Mushroom Soup is a packed with nutrition and but also evokes a feeling of a special meal, making it perfect for the mom in your life this Mother's Day.