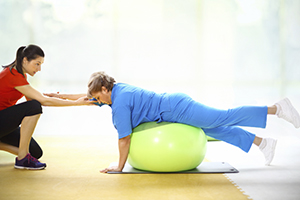 You may not be a gym kind of person. You may prefer to exercise alone. But, sometimes it is easy to skip our solo exercising. As exercise is a cornerstone to losing weight after gastric sleeve, gastric bypass, or lap band surgery, skipping it can be problematic for your health and slow your rate of weight loss. Here's where taking a group fitness class may have it's benefits. It doesn't have to be at a gym that requires a monthly membership. There are stand alone studios, city parks, and adult education classes that offer classes on different days and at different times that make it convenient to find a class that fits your interests as well as fits your schedule.
There are several benefits to taking a group fitness class. Being accountable to a class can improve your regularity of exercise. Choose a time and location that is convenient for you and a class that stimulates your interests. Register, sign up, and prepay for the duration of the class. By prepaying you will feel committed to going each week to get your money's worth. If you know the instructor or a friend are expecting you, you may be more likely to go even when you may not want to.
You will likely see improvement in your performance with each class. This improvement can provide encouragement, support, and motivation. Whether it's how long you can balance in a pose, how many repetitions you can do, or how long you can exercise without stopping for a break, you may notice it each week. The instructor may also notice and provide encouraging words.
The people taking the class may have similar interests as you, so try to make a buddy you enjoy speaking to each week. You may develop a friendship and can encourage each other during the class or encourage each other to stay on track in between classes.
Instructors have training in their area. They can help you when you are learning proper technique and can offer suggestions for better form to prevent injuries. As many of the class participants may be at different levels of ability, the instructor may be able to offer suggestions to help modify an exercise to meet your abilities, which is one benefit you do not get when exercising alone.
The possibilities for classes seem to be endless in South Florida. A quick look at a local park brochures shows a variety of classes:
yoga
pilates
tai chi
line dancing
belly dancing
tahitian dancing
archery
tennis
stretching
golf
A gym may offer a different sort of class, such as spinning, barre, Zumba, or P90X, as well as gearing a class more toward an older crowd such as Silver Fit. Look for what interests you and at a time a location that is convenient for you. It may be after work, while the kids are at school, at night, or even on the weekend. You may even ask to take a trial class to make sure it is something you like before committing.
Exercise is important to maintain a healthy body and mind, and is integral in helping Dr. Shillingford's bariatric patients achieve their weight loss goals. These suggestions are provided by Dr. Shillingford, M.D., P.A., a board certified general surgeon specializing in laparoscopic and bariatric surgery. Dr. Shillingford's lap band, gastric sleeve, and gastric bypass patients frequently cite exercise as one of the things that have helped them achieve their weight loss goals, and also something they find easier to do after they have lost weight. Dr. Shillingford's bariatric patients come from all over South Florida including Boca Raton, Hollywood, Hialeah, Coral Springs, Fort Lauderdale, and Miami, Miami Beach, as well as Orlando, Jupiter, and Jacksonville.