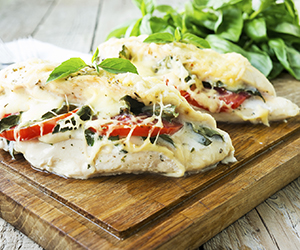 Classic Italian flavors of tomatoes, cheese, and basil are delicious and totally crave worthy. But traditional Italian pasta and sauce meals are often one of the first meals to be eliminated after gastric sleeve, gastric bypass, and lap band surgery due to their high carbohydrate and calorie levels.
Gastric sleeve, gastric bypass, and gastric band patients don't have to give up traditional Italian flavors completely. By keeping the traditional ingredients of tomatoes, cheese, and basil, and combining them with higher protein foods like chicken instead of pasta, bariatric patients can get the flavors they crave while keeping on their lower carbohydrate, low calorie diet to promote weight loss.
This recipe for Caprese Stuffed Chicken is simple enough to put together after work or fancy enough for a special occasion. You can add a simple side salad, a traditional tomato and cucumber salad, or zucchini zoodles to complement the meal.
Caprese Chicken Breasts
2 skinless, boneless chicken breasts (about 4 oz each)
2 ounces fresh mozzarella cheese
A few fresh basil leaves, torn
2 tbsp sun dried tomatoes, jarred
Dash of garlic salt
~1 tbsp oil (from the jar of sun dried tomatoes)
Salt and pepper to taste
Directions:
Preheat oven to 375. While oven is preheating, flatten chicken breasts with a kitchen mallet until even thickness of about ½ inch. Sprinkle with salt and pepper.
Place one ounce of fresh mozzarella, a few shreds of basil leaves, and a tablespoon of sundried tomato into the center of the flattened chicken breast.
Roll chicken breast tightly, making sure the stuffing stays securely inside. Fasten securely with string at both ends, or secure with toothpicks.
Drizzle chicken with a little oil from the jar of sun dried tomatoes and top with a dash of garlic salt.
Bake at 375 for 40-45 minutes until the chicken turns golden brown and reaches a temperature of 165 degrees.
The above recipe is offered by Dr. Shillingford, M.D., P.A., a board certified surgeon specializing in advanced laparoscopic and obesity surgery. Dr. Shillingford's gastric sleeve, lap band, and gastric bypass patients travel to his Boca Raton office from all over the state of Florida, from Miami, to Fort Lauderdale, to Orlando, to Jacksonville, as well as from states such as Georgia, New York, Ohio, Texas, and Minnesota. Dr. Shillingford's gastric sleeve, gastric band, and gastric bypass patients are often seeking recipes that are lower in calories but high in protein, and most importantly recipes that taste great. You can find more recipe ideas and health related news on Dr. Shillingford's website.