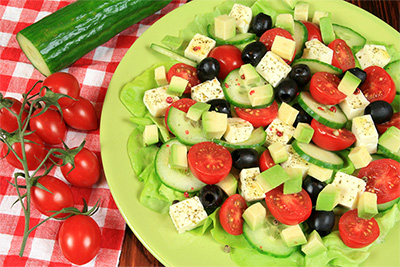 It's summer in Florida, and you know what that means: heat! When it's hot outside and you don't want to turn on the oven and heat up the house, salad can be a great choice for lunch or dinner. Salads can be a great choice for bariatric patients, as well as people with type 2 diabetes, because they can fill you up with ingredients that are both healthy and low in carbohydrates, which is ideal for weight loss.
Salads do not have to be lettuce based to be a salad. For many weight loss surgery patients, lettuce is something they may not tolerate well in their post-op diet, even beyond when they've reached Dr. Shillingford's Stage 5 when lettuce is allowed. While lettuce does provide a nice crunch that gastric sleeve, gastric bypass, and lap band patients crave, lettuce is not very nutrient dense so it may fill you up before you've consumed your protein goal. Thankfully, lettuce is something that can be left out of a salad and still be delicious.
This Caprese Salad with Avocado is a great meal option for many gastric sleeve, gastric bypass, and lap band patients, as well as people with type 2 diabetes. Protein is provided by the fresh mozzarella cheese. For additional protein, cooked diced chicken, salmon, steak can be added to meet your daily protein goal of 60-80 grams/day. While this salad is low in carbohydrates, it is not a carbohydrate-free meal. The tomatoes and cheese naturally have carbohydrates and those carbohydrates should be taken into consideration within the 50 gram per day carbohydrate limit after bariatric surgery. But the salad also has fiber from the tomatoes, cucumbers, and avocado that helps to prevent a spike in blood sugar that is often associated with eating carbohydrates.
Caprese Salad with Avocado
¼ cup balsamic vinegar
¼ cup extra virgin olive oil
1 ½ cup cherry tomatoes, diced
½ cup diced cucumber (seeds removed, if desired)
1 medium avocado, cubed
Salt and pepper to taste
¼ tsp Garlic powder
2 tsp fresh basil, chopped
1 cup fresh mozzarella, diced
Directions:
Heat balsamic vinegar in a small saucepan. Simmer for 10-15 minutes until thickened, then allow reduction to cool. If making this reduction ahead of time, place it in the refrigerator to cool. In a separate bowl, add olive oil and spices, then whisk until mixed. Add cucumbers, avocado, tomatoes, cheese, and basil and mix until thoroughly coated. Drizzle with balsamic reduction to taste.
For people with obesity (BMI>30) and type 2 diabetes, weight loss is important. It can help reduce blood sugar levels, prevent the need for diabetic medication, and possible reduce potential side effects from type 2 diabetes such as end stage kidney disease, blindness, and limb amputations. For those who have tried unsuccessfully to lose weight, bariatric surgery may be an option covered by health insurance or accessible through Dr. Shillingford's self pay pricing. To learn more about gastric sleeve, gastric bypass, and gastric band surgery and if it's right for you, call Dr. Shillingford at (561) 483-8840 to schedule your free informational session. While Dr. Shillingford, MD is currently accepting telehealth appointments, his Boca Raton office is conveniently located for patients traveling from Miami, Coral Springs, Delray Beach, Wellington, and even Orlando for their bariatric surgery.