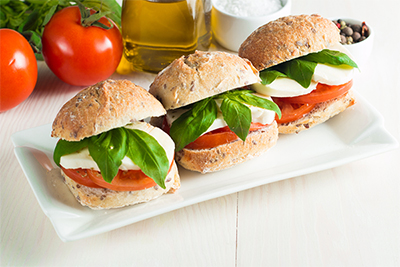 Burgers (whether they are turkey burgers or lean beef burgers) make a great 'go-to' meal for bariatric patients who have advanced to the regular textured protein stage (see Dr. Shillingford's Post-Op Diet here or consult your bariatric surgeon). Burgers are a great meal option for several reasons:
They are packed with high quality protein (3 oz cooked lean beef provides 22g protein)
Can be made small to accommodate the smaller portion size of weight loss surgery patients
They are inexpensive to make at home
Quick to make (and easy to make a few at a time and individually freeze)
You can add a variety of flavor toppings to keep your meals interesting and varied
For gastric sleeve, gastric bypass, and lap band patients, the key to fitting burgers into your weight loss lifestyle is to keep them low in carbohydrates. Two ways to accomplish that are to forgo the bun and skip sugary condiments like ketchup or BBQ sauce. Skipping the bun is a very easy way of eliminating refined carbohydrates and keeping your post bariatric surgery carbohydrate intake below 50 grams/day. You can put a burger on a salad, wrap it in a lettuce leaf, or eat it with a knife and fork. You can dress up your burger with toppings that fit into your bariatric lifestyle by providing protein, vegetables, heart healthy fats, or even fruit.
We've rounded up a few ideas to help you expand your burger horizons while still keeping it high protein, low carbohydrate, and weight loss surgery friendly:
Hawaiian burger- add slice of ham and a thin slice of grilled fresh pineapple
Caprese burger- add a slice of fresh mozzarella, a slice of tomato, and a basil leaf
Mushroom burger- raw or sauteed mushrooms and a slice of swiss cheese
Cheddar bacon burger- top with some shredded cheddar and bacon crumbles
Blue cheese burger- simply add some blue cheese crumbles
Pizza burger- a spoonful of low sugar marinara sauce, mozzarella cheese, and pepperoni slices
Standard burger- a leaf a lettuce, pickle slices, a slice of cheese, and a tomato slice
Taco burger- slice of colby jack cheese, green chiles, and a dollop of salsa
California burger- sliced avocado and chipotle mayo/plain yogurt
Mediterranean burger- thinly sliced cucumbers, red onion, feta crumbles, and tzatziki sauce
Colorful burger- red onion slices and guacamole
While you are making your burgers, it's a good idea to make a few extra. If you layer wax paper between them and freeze the patties individually, they are easy enough to pull out of the freezer for a quick lunch or dinner when you're running low on time. You'll thank yourself.
These bariatric burger flavor suggestions are offered by Dr. Shillingford, MD, PA, a board certified surgeon specializing in advanced laparoscopic and bariatric surgery. His gastric sleeve, gastric bypass, and gastric band patients come from Miami, West Palm Beach, Coral Springs, Tampa, Orlando, and as far away as Jacksonville to have their weight loss surgery performed by Dr. Shillingford, who is the Medical Director at Northwest Medical Center's Center of Excellence in Bariatric Surgery. Dr. Shillingford reminds his bariatric patients to consult their post bariatric surgery dietary guidelines and not to progress to eating foods beyond their stage until their body is ready.