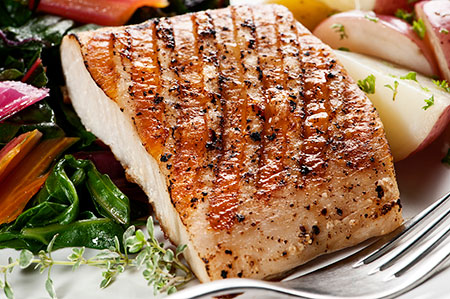 Fish is often one of the animal proteins most easily tolerated by gastric sleeve, gastric bypass, and lap band patients. As such, it should be something bariatric patients try at the appropriate stage after their surgery even if they never really liked fish before.
Although breaded and fried fish is often a favorite among seafood eaters, weight loss surgery patients should opt for fish that is neither breaded nor fried. Instead, fish should be baked, broiled, steamed, grilled, or cooked in a foil or parchment paper pouch. These methods of cooking help to reduce the overall calories of the meal to maximize weight loss after gastric sleeve, gastric bypass, and lap band surgery.
White fish, such as haddock, can be somewhat bland. Spicing it up may help you enjoy it more. If you don't have a ton of tested seafood recipes that you enjoy, Dr. Shillingford has one to suggest. The recipe uses haddock, which has 95 calories, nearly 21 grams of protein, 0 g carbohydrates, and 1 g of fat per 3 ounces. Haddock is mild in flavor and quite flaky, which makes it a good choice for weight loss surgery patients.
Broiled Haddock with Lemon snd Spices
2 lb haddock fillets
1 tsp olive oil
1 lemon
½ tsp each: onion powder, paprika, garlic powder, black pepper, salt Cayenne pepper (if desired)
Directions:
Move oven rack to 6 inches away from the broiler. Preheat broiler.
Line a baking pan with foil.
Spray with cooking spray.
Put haddock fillets on pan and dry with a paper towel.
Dip a pastry or basting brush in oil and lightly coat the top of the fillets.
Mix all the spices in a small bowl. Add a dusting of cayenne if desired.
Sprinkle seasoning evenly over fillets.
Broil for 6-8 minutes, depending on the thickness of the fish.
Squeeze lemon over the fillets prior to serving, if desired.
When cooked, the fillets should flake easily with a fork. This flakiness is often what makes this animal protein more easily tolerated after bariatric surgery than tougher meats (like chicken breast and beef). It also helps make it easy for gastric sleeve, gastric bypass, and lap band patients to take small bites and chew it well. Many weight loss surgery patients are surprised that they both like and tolerate fish after their surgery. If you haven't tried fish yet, Dr. Shillingford encourages you to do so (as long as you have advanced at least to Dr. Shillingford's post-op bariatric diet Stage 4).
For more information about gastric sleeve, gastric bypass, and lap band surgery with Dr. Shillingford, MD, PA, please call his south Florida office at (561) 483-8840. Dr. Shillingford is widely praised for his patience, bedside manner, and surgical skills. As Medical Director of Northwest Medical Center's Center of Excellence in Bariatric Surgery, you feel confident you chose a proven leader in bariatric surgery for your procedure and your follow up appointments. Dr. Shillingford's patients find his Boca Raton office conveniently accessed from nearby Coral Springs, Wellington, Miami, West Palm Beach, and the Treasure Coast city of Vero Beach.