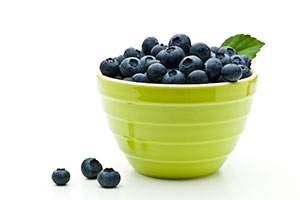 Dr. Shillingford's Roux-en-Y gastric bypass, lap band, and gastric sleeve patients often ask about how they can pack in the most nutrition to their new, much lower calorie post bariatric surgery diet. Spring's bounty in the Miami/Fort Lauderdale/Boca Raton area brings us a nutrition powerhouse: blueberries. Blueberries are best fresh in South Florida between April and June.
Blueberries have the highest concentration of antioxidants of any other fresh fruit. These little round berries are only 85 calories per cup and are packed with micronutrients like vitamin C, anthocyanin, B complex vitamins, vitamin A, copper, selenium, iron, and zinc. These antioxidants help boost your immune system and prevent infections.
Anthocyanin, which is largely responsible for the blue color, along with vitamin C helps neutralize cancer-causing free radicals in the body, and may even block the growth of tumor cells. Flavonoids in blueberries are believed to help reverse age-related memory loss. One study suggests that as little as 1 serving a week slowed cognitive decline by several years.
While cranberry usually get high regards for helping with Urinary Tract Infections (UTIs), blueberries should not be overlooked. They also contain compounds that help prevent bacteria from adhering to the bladder walls, which may help stop UTIs before they start.
If you think consuming blueberry flavored foods or drinks is an easy way of incorporating these beauties into your diet, think again! Many blueberry flavored foods are made using a mixtures of sugars, artificial flavors, and dyes. Nothing compares to a handful of fresh berries. Try them in your smoothies, or on top of cereal, oatmeal, or yogurt. They can also liven up a salad. Try this recipe (at an appropriate time in your post weight loss surgery diet):
Ingredients
4 cups mixed salad greens and/or spinach
3 to 4 ounces goat cheese or other soft cheese
1 cup fresh blueberries
½ cup pecans, almonds, or walnuts (can be toasted to bring out extra flavor)
¼ cup oil and vinegar dressing or balsamic dressing
Instructions
Arrange greens on four salad plates, dividing evenly
Slice or shape goat cheese to form four rounds
Arrange in center of each plate
Sprinkle blueberries and pecans on greens
Drizzle dressing over salad