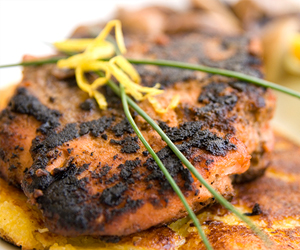 If blackened fish is a popular choice at restaurants, why not eat it at home too? This method of cooking salmon is quick and easy once you get the hang of it. The trick is to cook it on the stove top with high heat, which heats up the aromatic spices and makes a nice black crust out of the butter. The one thing to watch out for with this recipe is that it gets very hot and can smoke. Use a cast iron skillet or heavy bottomed (not a non-stick) pan and open some windows just in case it smokes while cooking. If you're using a cast iron pan, you may even want to try this method outside on your grill.
Although gastric sleeve, gastric bypass, and lap band patients frequently cook small amounts of food for their meals, this is a meal that it may be worth cooking extra of. Leftover blackened salmon makes a great addition to salads, which can turn a regular green salad into a protein filled, delicious meal for lunch or dinner. And it couldn't be easier- just take leftover blackened salmon out of the refrigerator, flake it with a fork, and add it to a salad of your choice. Take it to work for lunch (and skip ordering out) or have dinner ready in a flash with leftover salmon. With all that extra time on your hands, fit in a quick walk or workout, to help you feel healthy on the inside and out!
Blackened Salmon
Use premade Cajun seasonings, or make your own (1 tablespoon ground paprika, 1 tablespoon ground cayenne pepper, 1 tablespoon onion powder, 2 teaspoons salt, 1 teaspoon ground black pepper, 1/4 teaspoon dried thyme, 1/4 teaspoon dried oregano)
4 salmon fillets, skin and bones removed, Melted butter, about ⅓-½ cup
Preheat cast iron pan over high heat.
Brush each side of the fillets with melted butter and sprinkle generously with Cajun seasonings.
Place the salmon in the pan one fillet at a time.
Cook 2-5 minutes, until the fish is blackened on one side and the spices are fragrant.
Flip fillets and cook until the fish is blackened and flakes easily with a fork.
Fish, and salmon in particular, should be part of a healthy, well balanced diet. This is especially true for gastric sleeve, gastric bypass, and lap band patients. Salmon is a rich source of protein as well as omega 3 fatty acids, which are heart healthy fats, and other nutrients like vitamin B12, vitamin D, phosphorus, and vitamin B6.
Despite the high fat content of salmon, it can fit into a bariatric weight loss diet.
Dr. Shillingford, MD, PA, encourages his gastric sleeve, gastric bypass, and lap band patients to choose healthy sources of high quality proteins, and fish can be a great choice. Dr. Shillingford's bariatric patients come from all over Florida, including Boca Raton, Miami, Orlando, Tampa, and Jacksonville, for his reputation as a Center of Excellence Surgeon and his compassionate bedside manner. To schedule a surgical evaluation with Dr. Shillingford or to attend one of his free informational sessions, please call his Boca Raton office at (561) 483-8840.