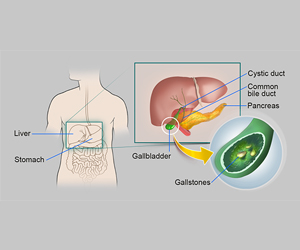 According to the National Institutes of Health, an estimated 20 million Americans have gallstones. Most do not even know it. Gallstones, or solid deposits of cholesterol or other crystals that form in the gallbladder, often produce no symptoms. When symptoms do present, they often lead to pain in the abdomen and nausea, often after meals.
While the exact cause of gallstones has yet to be determined, we do know several factors that contribute to the production of gallstones:
Excess body fat (especially around the waist)
Obesity
Rapid weight loss
Diabetes
Family history of gallstones
High triglycerides
Lack of physical activity
Pregnancy
Certain medications (particularly estrogen based)
Unfortunately for bariatric patients, several risk factors may put them at greater risk of developing gallstones, particularly symptomatic gallstones. Diabetes, obesity, high triglycerides, and lack of physical activity are factors that can put gastric sleeve, gastric bypass, and lap band patients at risk for gallstones well before their weight loss surgery. Obese people may produce large amounts of cholesterol, which can lead to bile having more cholesterol than it can dissolve, which may contribute to producing gallstones. After gastric sleeve, gastric bypass, and lap band surgery, rapid weight loss can place bariatric patients at an even greater risk.
Gallstones may produce symptoms of abdominal pain and nausea, and if they get stuck in the duct that leads from the gallbladder to the small intestine, can cause inflammation and what is known as a gallstone attack. Gallstones that produce no symptoms do not need treatment. But for gallstones producing symptoms, surgery to remove the gallbladder (known as a cholecystectomy) is often the best treatment.
It is crucial to note that the side effects of obesity (diabetes, hypertension, heart disease, stroke, certain types of cancer, impaired mobility) are far worse than the potential side effects of gallstones caused by rapid weight loss. However, experts do list several potential measures you can take to help prevent gallstones. Luckily for bariatric patients, these methods of reducing the risk of gallstones also coincide nicely with the tenets of a bariatric weight loss diet:
Eat foods high in fiber
Reduce sugar intake and refined grains
Consume healthy fats (like fish oil and olive oil)
Getting regular physical activity
If you think you have gallstones, please discuss your symptoms with Dr. Shillingford, MD, PA. Over his decade working with the bariatric population, Dr. Shillingford has seen many cases of symptomatic gallstones and is highly skilled in performing laparoscopic cholecystectomies. Dr. Shillingford has privileges at Northwest Medical Center, West Boca Medical Center, University Hospital and Medical Center, Coral Springs Medical Center, and North Broward Medical Center to accommodate his patients from the nearby areas of Fort Lauderdale, Miami, Parkland, West Palm Beach, Wellington, and Boca Raton.