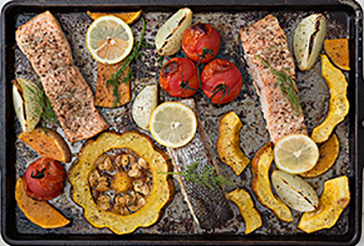 We all scramble to cook a homemade dinner some nights. Those nights always seem to follow busy day, a day where things just didn't go your way, a day when you might have previously picked up some take out to make your night easier. But, after your gastric sleeve, gastric bypass, or lap band surgery, you know that those easy take out nights just make your weight loss that much harder. You know that don't really work with your bariatric diet either. You know that you could make a much healthier dinner, one that is lower in carbohydrates to fit within your gastric sleeve, gastric bypass, or lap band diet, but you don't think you can easily do it tonight...
Don't fret, we've got a super easy one pan dinner that's so easy you can quickly make it on a weeknight. Grab a sheet pan and get started!
Sheet Pan Salmon Dinner for Two
2 pieces salmon (thawed or fresh)
½ lb fresh green beans, trimmed
2 cups cherry tomatoes
2 tbsp Italian dressing
½ lemon
Salt and pepper to taste
Directions:
Lay salmon on the sheet pan (if it has skin place skin side down).
Toss cherry tomatoes and green beans with 1 tbsp dressing. Surround salmon with the coated vegetables.
Drizzle the remaining dressing over the salmon.
Squeeze the juice from half the lemon on top of the salmon and veggies.
Add salt and pepper to taste.
Bake in a preheated 400 degree oven for 10-15 minutes or until salmon is cooked and veggies are lightly browned.
If you're cooking for yourself, you can easily scale down the recipe to meet your specific needs and your serving sizes. Or, you can make enough to have leftovers. Cold flaked salmon does go nicely on top of a veggie packed salad for lunch or dinner the next day. It's up to you. Make the most of the cooking time by fitting in some exercise into your day if you haven't already. Put an exercise video on your phone, dance to some upbeat music, do some yoga or pilates moves, or fit in some planks, squats, and lunges to fill in the cooking time.Before you know it, you'll have a low carbohydrate, bariatric diet friendly dinner prepped, cooked, and you worked some exercise in at the same time!
For more recipes and information on gastric sleeve, gastric bypass, and lap band surgery, check out more of Dr. Shillingford's blogs here. Dr. Shillingford, MD, PA, is a board certified surgeon specializing in weight loss surgery and advanced laparoscopic and robotic surgery. He proudly serves as Medical Director at Northwest Medical Center's Center of Excellence in Bariatric Surgery, where his gastric sleeve, gastric bypass, and lap band patients receive top notch care during their hospital stay.