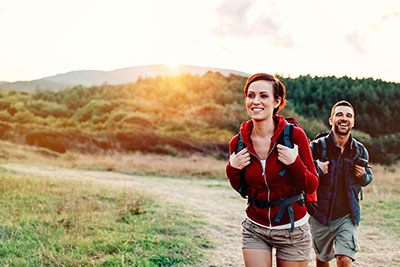 Normally 4th of July is a day to gather with family, friends, and neighbors to enjoy cookouts and fireworks and celebrate the birth of America. For most of the country, 4th of July in 2020 will be a little different. As social distancing is encouraged and gathering is discouraged, our regular plans to celebrate Independence Day will have to change. Gastric sleeve, gastric bypass, and lap band patients can use this change to find different ways to celebrate that are less centered around food and encourage more physical activity.
Instead of the usual celebratory gatherings, you can maintain social distancing and still have fun celebrating in different ways. Some suggestions from Dr. Shillingford's office include:
Go for a hike (in a National Park if you can)
Take your family on a bike parade in your neighborhood or town
Have a family game of baseball, catch, soccer, or football
Plant a red, white, and blue themed garden
Camp out in your backyard
Spend time splashing around in a pool
If you do plan a cookout on your backyard grill, remember to focus on proteins first. If you have advanced in your post-bariatric surgery diet to regular consistency food, sliders, steak, fish, and chicken thighs are great protein choices to grill. Keep your side dishes low in carbohydrates in order to stay on track with your weight loss surgery diet. Good choices for side dishes can be grilled vegetables (mushrooms, peppers, asparagus, cauliflower, and green beans are low in carbohydrates), a green salad, avocado and tomato salad, or cucumber salad. Sugar-free jello can make a good low carbohydrate dessert to please to whole family. Please be sure to consult Dr. Shillingford's post-op diet chart to confirm which foods are acceptable for your post-surgical stage.
This year may be different, but that doesn't mean you can't still have fun and keep it bariatric friendly. Remember to fit in some physical activity and keep your food high in protein and low in calories and carbohydrates. If you have time, a virtual visit to an American history museum can round the holiday out nicely.
Dr. Shillingford, Md, PA is Boca-Raton based surgeon specializing in advanced laparoscopic and bariatric surgery. His reputation for surgical excellence has made him a leader in the field of weight loss surgery in South Florida, and his office will soon be expanding to the Treasure Coast. To find out if you are a candidate for gastric sleeve, gastric bypass, or lap band surgery, call Dr. Shillingford's office today at (561) 483-8840 or visit www.drshillingford.com/am-i-a-candidate.html.