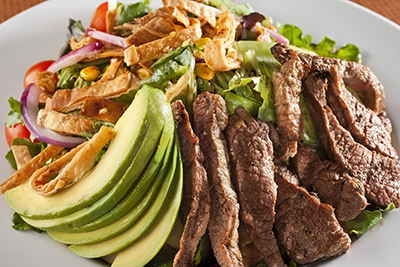 Summer is a great time to have a salad for dinner. But gastric sleeve, gastric bypass, and lap band patients are encouraged to incorporate protein into their meals, so a plain green salad isn't the best choice. Enter this Steak and Avocado Salad from Tasty. It's loaded with sirloin steak and hard-boiled eggs for high-quality protein that will help bariatric surgery patients lose weight without compromising muscle. It's also got avocado for healthy fats and fiber, and tomatoes for vitamins A and C.
Steak and Avocado Salad
1 lb sirloin steak, about ½ inch thick
salt, to taste
pepper, to taste
2 tablespoons oil
2 hearts romaine lettuce, chopped
3 hard-boiled eggs, diced
2 avocados, diced
2 cups cherry tomato, halved or quartered
3 tablespoons Caesar dressing
Preparation
Salt and pepper the steak on both sides, being sure to rub in the seasoning.
Heat the oil in a pan over high heat until slightly smoking.
Sear the steak for about 2 minutes per side.
Rest the steak on a cutting board for 10 minutes.
Slice the steak (or chop into small pieces).
In a large bowl, combine the lettuce, eggs, avocados, cherry tomatoes, steak, and dressing.
Toss salad until evenly coated.
This recipe makes many servings, you could scale it back for a single serving or feed your whole family. But bariatric patients are encouraged to eat only until the feel full, and begin with the steak and eggs for protein. This salad is also a great way to use any leftover steak you might have instead of cooking it fresh. Although the recipe calls for Caesar dressing, we think this Avocado and Greek Yogurt Sauce would make a good choice also. You could also add in other fresh low carbohydrate vegetables you like, for example, cucumber or red pepper.
This recipe would make a lunch or dinner for gastric sleeve, gastric bypass, and gastric band patients who tolerate steak and raw vegetables, which is most likely those who have advanced to Dr. Shillingford's bariatric post-op diet Stage 6. Consuming foods before your new stomach is ready can result in some unpleasant side effects, such as nausea, vomiting, gagging, and GI distress. If your post-surgical stomach is not ready for this salad, bookmark this recipe and come back to it when you're ready.
Dr. Shillingford, MD, PA is a board-certified surgeon specializing in advanced laparoscopic and weight loss surgery. As Medical Director of Northwest Medical Center's Center of Excellence in Bariatric Surgery, Dr. Shillingford offers a highly trained and supportive team for a positive surgical experience for his gastric sleeve, gastric bypass, and lap band patients. His Boca Raton office is conveniently located for many patients in the Miami, Fort Lauderdale, West Palm Beach, and Coral Springs areas. For those traveling from the Treasure Coast for their weight loss surgery, Dr. Shillingford will soon be opening an office in the Vero Beach area. If you are considering weight loss surgery, call Dr. Shillingford's office today at (561) 483-8840.