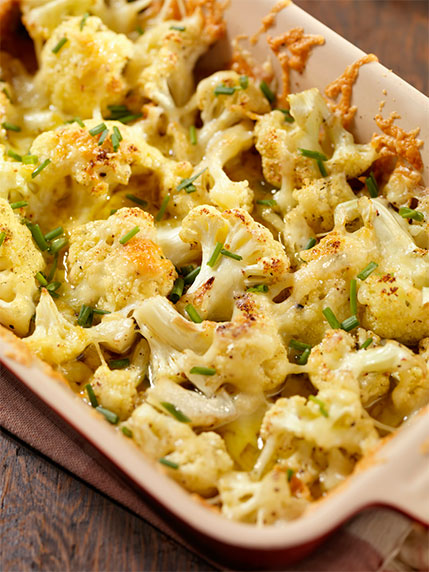 Cauliflower has become a staple for many households in recent years, especially among those who have had bariatric surgery. If you buy fresh cauliflower by the head or in a bag, you may find that you have a lot of leftover florets on your hands. While cauliflower florets are great raw, having recipes on hand to use up leftover steamed cauliflower is a great way to clear out your fridge and make low carbohydrate recipes that you can have for breakfast, lunch, or dinner.
Cauliflower is a very versatile vegetable. It can fit it's way into many flavor profiles, including Italian, Asian, and Latino dishes. It adds bulk without adding many calories or carbohydrates. One cup of cooked, fresh cauliflower florets provides 40 calories, 3 grams fiber, 8 grams carbohydrates, and 3 grams protein in addition to a spectrum of vitamins and minerals. In a casserole like this, cauliflower takes over the role traditionally filled by rice or pasta. By using cauliflower instead, you significantly reduce the calories and carbohydrate content. That combined with the protein content from the turkey sausage and ricotta and other low carbohydrate vegetables helps to promote weight loss after gastric sleeve, gastric bypass, or lap band surgery.
This recipe is more like a suggestion than a recipe that needs to be followed to word for word. The foundation of the recipe is turkey sausage, ricotta cheese, and cauliflower. You can add your own twist to use up foods you have on hand, or foods that you tolerate the best after your weight loss surgery. Zucchini, asparagus, or kale could also be great substitutions or additions to this bariatric friendly casserole.
Turkey Sausage and Cauliflower Casserole
16 oz turkey sausage (preferably without the casing)
2-4 cups precooked steamed cauliflower
1-2 cups fresh spinach
¼ cup diced onion
¼ cup diced red pepper
¼ cup sliced mushrooms
1 clove garlic
¼ cup broth (chicken, beef, or vegetable work well)
1 cup part skim ricotta cheese
Salt and pepper
1 cup grated or shaved Parmesan cheese
Spray a saute pan with nonstick spray and put on medium heat. Add turkey sausage, use a wooden spoon to separate into small pieces. Drain fat.
When the sausage is mostly cooked, add onion, red pepper, spinach, mushrooms, and salt and pepper to taste. Saute 3-5 minutes or until vegetables soften. Add garlic and stir for a minute being careful not to burn it, then add broth. Bring to a boil, then turn off the heat.
Spray the casserole dish with nonstick spray. Add steamed cauliflower and ricotta cheese and mix thoroughly. Add sausage and vegetable mixed to the casserole dish. Stir to combine.
Bake in a 350 degree preheated oven for 10-15 minutes. Add parmesan cheese and bake a few more minutes to melt the cheese.
The ricotta and broth should add moisture to this recipe that helps make it tolerated by gastric sleeve, gastric bypass, and lap band patients. But, it is important to only eat foods that are appropriate for your stage of Dr. Shillingford's Post-Op Bariatric diet. If a food suggested for this recipe doesn't sit well with your new pouch, you can leave it out or substitute it for something different that is still stage appropriate.
Dr. Shillingford, MD, PA is a South Florida based, board-certified surgeon specializing in advanced laparoscopic and bariatric surgery. His gastric sleeve, gastric bypass, and lap band surgery patients are often seeking high protein, lower carbohydrate meal ideas to fit into their post bariatric surgery diet and lifestyle. In addition to following a low calorie, high protein diet, taking small bites and taking your time to consume your meal are also important factors in bariatric eating.