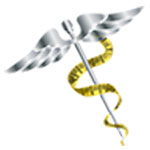 *Recipe submitted by Orlando, FL Lap-Band patient, Jaime S.
Ingredients
2 ½ cups blanched almond flour
½ teaspoon sea salt
¼ teaspoon baking soda
1 teaspoon cinnamon
½ cup coconut oil, melted
5 tablespoons agave nectar
1 tablespoon vanilla extract
Directions
In a large bowl, combine almond flour, salt, baking soda and cinnamon
In a smaller bowl, mix together coconut oil, agave and vanilla
Mix wet ingredients into dry, then chill dough in refrigerator for 1 hour
Roll out dough between 2 pieces of parchment paper until ¼ inch thick
Remove top piece of parchment paper and dust dough with almond flour
Cut out cookies with a small star cutter
Using a metal spatula, place stars on a parchment lined baking sheet
Bake at 350° until lightly browned around the edges, 5-8 minutes
Sprinkle a little cinnamon or festive sprinkles on top!
Makes 32 cookies to share
Dr. Shillingford and his staff wish you a Happy and Healthy holiday season!
Dr. Shillingford is a board certified surgeon who specializes in bariatric or weight loss surgery including the Sleeve Gastrectomy (Gastric Sleeve), Gastric Bypass, and Lap-Band procedures. His patients come from across the state of Florida including Tampa, Orlando, Miami, Jacksonville, and Tallahassee. To learn more about Dr. Shillingford's integrative weight loss surgeries and all-inclusive fees please call his office in Boca Raton, Florida at (561) 483-8840.