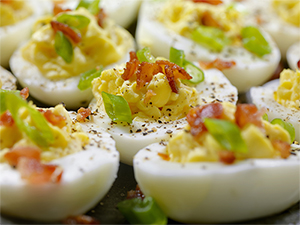 Eggs are one food that people often think of for breakfast, but really they can be enjoyed at any meal (as long as you are into Stage 5 of your post bariatric surgery diet). Eggs are a great source of protein (6 grams in a large egg) and are packed with vitamins and minerals. For gastric sleeve, gastric bypass, and lap band patients who are able to tolerate hard boiled eggs after their weight loss surgery, this dish may prove to be one you want to keep in your fridge for breakfast, lunch, or dinner.
Bacon, Avocado, and Tomato Deviled Eggs
6 hard boiled eggs (if you've never tried using the Instant Pot for eggs, this is a great time!) ½ ripe avocado 1 tomato, diced small (remove seeds and membrane) 3 pieces of cooked bacon, chopped into pieces Salt and pepper to taste
Directions:
Peel eggs and cut in half lengthwise. Use a spoon to scoop the yolk into a mixing bowl.
Add the avocado to the bowl and mash them together with a fork until they are combined.
Stir in tomato dices, salt, and pepper until mixed well.
Scoop the mixture back into the whites of the eggs.
Top with bacon crumbles.
You'll get protein from the egg and bacon, healthy fats from the avocado, and vitamins A and C from the tomato. If you are only of the many bariatric surgery patients who have a hard time with meat after your gastric sleeve, gastric bypass, or gastric band surgery, you could leave out the bacon, and try adding back into the recipe after you've given yourself some time for your body and your new stomach to adjust.
These deviled eggs are low in carbohydrates, so they fit into your post bariatric surgery diet well, as long as you are mindful of the appropriate stage and your personal tolerance for eggs. Maintaining a low calorie and low carbohydrate diet after weight loss surgery is important for maximizing your weight loss but maintaining your muscle mass. Your weight loss diet, plus appropriate exercise should be the cornerstones of your post bariatric surgery lifestyle. But that doesn't mean you can't enjoy the taste of your food, and these deviled eggs are delicious!
This recipe suggestion is offered by Dr. Shillingford, MD, PA, a board certified surgeon specializing in advanced laparoscopic and obesity surgery. Dr. Shillingford performs gastric band, gastric bypass, and gastric band surgeries for obese and overweight patients with comorbidities, such as diabetes, hypertension, and sleep apnea, as well as other medical conditions that can be improved or reversed with weight loss and a controlled diet. Dr. Shillingford takes great pride in helping his bariatric surgery patients improve not only their appearance, but also their health and well being. His weight loss surgery patients often come to his Boca Raton office from nearby Fort Lauderdale, Miami, West Palm Beach, and Wellington, as well as farther locales like Naples, Orlando, and Jacksonville. Many patients are happy to travel the distance to have their surgery with Dr. Shillingford, who is highly regarded as a leader in bariatric surgery in South Florida, but is also known for his compassionate care and bedside manner. Call Dr. Shillingford's office today at (561) 483-8840 to make your appointment to change your life.