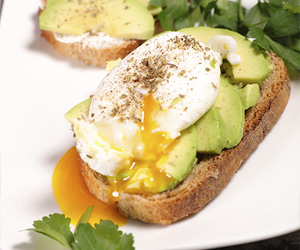 Avocado toast seems to be a go to breakfast for many people on a weight loss diet and those focusing on their health, like gastric sleeve, gastric bypass, and lap band patients. This meal incorporates protein rich eggs and avocados, which are full of healthy fats and fiber. It's a breakfast that takes only minutes to make but can fill you for hours.
This recipe includes a new twist: chipotle powder. The chipotle flavor incorporates well with the avocado, lending a slightly smoky, slightly spicy flavor that is opposite of traditionally sweet breakfast foods. The problem with many sweet foods in that they make you crave more sweet foods. Spicy foods, on the other hand, can actually help contribute to a decreased appetite.
And this recipe couldn't be simpler. 5 ingredients and 5 minutes is all is should take. That's plenty of time to make and eat before work. It could even work for a simple lunch or a dinner in a pinch. There's a reason avocado toast is all the rage amongst celebrities.
Chipotle Avocado Toast
Adapted from www.savoringspoon.com
1 slice sourdough toast, or a whole grain toast
1/2 ripe avocado
1 eggs
½ teaspoon chipotle powder
1/4 teaspoon black pepper
Oil for frying eggs (just a dash)
Directions
Toast the bread.
Meanwhile, peel and mash the avocado with a fork. Add chipotle powder and stir well to combine.
Add a dash of oil to a warmed pan, crack the egg to fry. Sprinkle with black pepper.
Cover and let cook on medium-high heat for about 3 minutes for a slightly runny center, or an additional 1-2 minutes for a harder center.
Smear avocado on toast and top with fried egg. Enjoy!
This quick and easy protein filled recipe is offered by Dr. Shillingford, M.D., P.A., a board certified surgeon specializing in advanced laparoscopic and obesity surgery. Dr. Shillingford's gastric sleeve, gastric bypass, and adjustable lap band patients come from all over South Florida, including Boca Raton, Delray Beach, Wellington, Miami, and Fort Lauderdale for Dr. Shillingford's expertise in the field of laparoscopic bariatric surgery.