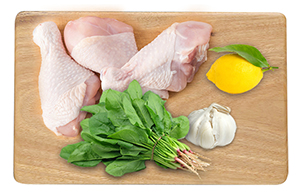 Chicken thighs have a reputation for being juicy and flavorful, a perfect combination for bariatric patients. The dark meat of chicken thighs is moister than chicken breast, which is helpful to gastric sleeve, gastric bypass, and lap band patients struggling to eat protein after their surgery. Bariatric surgeons and dietitians often recommend very moist meats and protein at the beginning of their post-bariatric surgery diets to prevent gagging and facilitate ease of swallowing. But chicken thighs remain a good choice for high-quality protein not only for Dr. Shillingford's Stage 4 (regular textured proteins) of the bariatric diet but also as part of the bariatric lifestyle of lower calorie, high protein meals.
For people who aren't used to cooking or eating chicken thighs, you may not know how to cook them. They can be roasted or grilled to limit added fats, or added to soups or stews, or any low-fat method of cooking chicken. Bariatric weight loss patients should avoid frying them, as well as other foods, as the deep frying method adds a lot of calories from fat.
For those just starting out on regularly textured meats, this recipe may have too many ingredients. It's best to add back one food at a time so you can easily tell if your new stomach tolerates the food. Once you know which foods your body tolerates and you can handle regular textured foods, you can try more adventurous healthy recipes. One recipe that incorporates spinach (known for its vitamins, minerals, and fiber), as well as other fresh ingredients is Easy Lemon Garlic Chicken.
Easy Lemon Garlic Chicken
1 tbsp olive oil
2 lb boneless, skinless chicken thighs
½ medium yellow onion, diced
3 cloves garlic
5 sprigs fresh thyme
1 large lemon
1 ½ cups fat-free chicken stock
1 cup fresh spinach, roughly chopped
Salt and pepper to taste
Instructions:
Heat oven to 400 degrees
In a large, oven-safe pan heat oil over medium heat
Season both sides of chicken with salt and pepper
Sear each side of the chicken thighs for 4-5 min or until golden brown
Remove chicken, set aside on a plate
Add onion and garlic to the pan, and saute until onion is translucent (about 4 minutes)
Pull leaves of thyme sprigs and add to onion
Juice the lemon (being sure to remove all seeds) and add to onion mixture
Add chicken stock and spinach, stir to combine.
Bring to a simmer, then return chicken thighs to pan
Spoon some broth over the top of the chicken to help keep it moist
Place pan in the oven, uncovered, and cook 15-20 minutes, or until chicken is cooked through
Always remember to take small bites, chew your food thoroughly, and eat your meal slowly. Stop when you feel full, or if the food just isn't sitting right in your new pouch. If you need something to accompany your meal, Cauliflower Rice could make a good choice, or a side of green beans, or something that fits nicely in with the stage of your bariatric diet.
For more information on gastric sleeve, gastric bypass, or lap band surgery, call Dr. Shillingford's office today at (561) 483-884. Dr. Shillingford, MD, PA is a board-certified surgeon specializing in weight loss surgery as well as advanced laparoscopic procedures. His bariatric patients come from all over Florida, including Boca Raton, Miami, Naples, Orlando, and Jacksonville, to receive top-notch care at Northwest Medical Center's Center of Excellence in Bariatric Surgery.