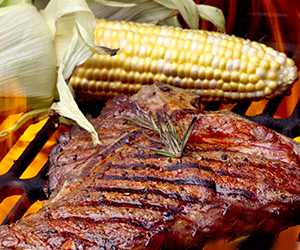 Father's Day is Sunday, June 19th, so get ready to celebrate with the dad in your life! One dinner idea is a delicious and healthy steak dinner. What dad doesn't enjoy a grilled steak dinner? You don't have to mention the "healthy" part, the "delicious" part will more than do its part to make dad feel special.
The whole meal will take about an hour to prepare, so you'll have plenty of opportunity to squeeze in some quality family time. Take a walk on the beach, go for a bike ride, play a round of golf, or challenge dad to a game of basketball. Do something together, whatever you both enjoy!
When you're ready for dinner, gather your supplies and light the grill. Dad may even want to help with the grilling. Then you can tell him about the awesome meal you're preparing. The steak will be the cornerstone of the meal and provide high quality protein. The fresh corn is lends complex carbohydrates, fiber, vitamin C, and antioxidants. Tomatoes provide vitamins A and C as well as antioxidants. Shishito peppers, which are usually sweet, are chock full of anti- inflammatory agents. As if that wasn't enough, the avocado adds heart healthy monounsaturated fats, fiber, and potassium to this fresh dish. The best part is that splitting the recipe with dad will still make it under 500 calories (and that's if you eat your whole serving). It won't leave you feeling heavy and tired, and it won't put a kink in your weight loss plan. You may not be able to eat your full portion if you've had gastric sleeve, gastric bypass, or lap band surgery, but that's OK, you can share or save it for delicious leftovers.
Steak With Grilled Corn Avocado Salad
Adapted from http://www.grumpyshoneybunch.com/
Ingredients:
3 ears corn on the cob
2 large firm tomatoes
1 cup roasted shishito peppers, chopped
1 avocado, diced
2 teaspoons balsamic vinegar
¼ teaspoon salt
2 4 ounces filet mignon steaks
2 teaspoons olive oil
Garlic salt
Instructions:
Preheat your grill.
Prepare filet mignon by rubbing 1 tsp of olive oil over each filet, then season with garlic salt. Cover and place back in the refrigerator.
While the grill is heating, brush corn cobs, tomatoes, and peppers with oil and season with garlic salt.
Place vegetables on the grill. Cover and cook 3-10 minutes until vegetables are charred and tender. The corn may need longer than the peppers and tomatoes, so watch your vegetables and take them off when ready.
Place steaks on the grill, cover, and reduce heat if necessary. Grill for 5-8 minutes on each side until desired doneness. Take off when done and let rest on a plate for 5 minutes.
When the corn is cool enough to handle, cut kernels off the cob and place in a bow. Dice peppers and tomatoes (remove seeds and skin, if desired), and add to bowl. Add diced avocados, balsamic vinegar, and salt. Toss gently to combine.
Slice the steak and arrange in a pinwheel on the plate. Scoop corn salad into the middle of the plate on top of the steak and enjoy!
This recipe is offered by Dr. Shillingford, M.D., P.A., a board certified surgeon specializing in advanced laparoscopic and obesity surgery. Dr. Shillingford performs gastric sleeve, gastric bypass, and lap band surgery in South Florida. His patients come from local areas of Boca Raton, Delray Beach, Parkland, Miami, Fort Lauderdale, and West Palm Beach, but also some also travel from Orlando, Jacksonville, Texas, and New York for his services. Dr. Shillingford's bariatric patients are often seeking healthy and delicious recipes that fit into their weight loss diets.