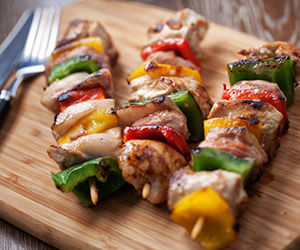 Summer seems to have returned to South Florida. As temperatures climb back toward 80 degrees, it's time to light our grills back up for this week's taco inspired recipe!
Even though this is a kebab recipe, it is a take on tacos as it incorporates the core fajita flavors of peppers, chili powder, and cumin, but without the traditional tortilla. Adding in some chipotle powder gives the flavor a smoky richness that will elevate the flavors, and adding pineapple gives it a sweetness that combines nicely with the smoky chipotle. It also uses chicken in place of traditional beef as the protein as our gastric sleeve, gastric bypass, and lap band patients all seems rather partial to chicken recipes.
As with many kebab recipes, you can use what you have on hand. Any kind onion will do, it doesn't have to be red onion, any color pepper will do, and if you're not feeling into it you can easily leave the pineapple out. You can try using chicken thighs if that's what you have in the fridge or is you just prefer dark meat chicken.
These kebabs pair nicely with guacamole, salsa, and/or sour cream. Make it into a complete dinner by adding a side of black bean and corn salad, or a small amount of brown rice. The kebab is a nice dinner choice for gastric sleeve, gastric bypass, and lap band patients as it allows you to take an amount that fills you up without overfilling as often an entire piece of chicken can do. The peppers, onions, and pineapple add vitamins A and C and fiber to this protein rich meal.
Chipotle Chicken Kebabs
Ingredients:
1 pound boneless, skinless chicken breast
2 tbsp canola oil
2 limes, one juiced, one sliced into wedges
1 tablespoon chili powder
1 teaspoon ground cumin
1 teaspoon chipotle powder
1 teaspoon minced garlic
½ teaspoon salt
1 jalapeño, chopped, deseeded, and membranes removed if you want to cut back on heat
2 large peppers, any color
1 large red onion
1 cup of fresh pineapple chunks
Optional: chopped cilantro as a garnish
Wooden or metal skewers
Directions:
Cut chicken into small pieces and place in a large zippered bag.
In a bowl, whisk together canola oil, the juice of 1 lime, spices, jalapeño, and garlic. Add this marinade to the bag of chicken. Close is securely. Squish the chicken around in the marinade to make sure all pieces are covered with the liquid. Let this marinate for at least 30 minutes, or it can be prepared in advance for a deeper flavor.
If you are using wooden skewers, soak them in water for at least 20 minutes before grilling.
While your grill is heating to medium high, cut the peppers, onions, and pineapple up in ¾ inch to 1 inch pieces. Prepare skewers by alternating adding onion, peppers, chicken, and pineapple until you use up all your ingredients.
Place skewers on an oiled grill and cover. Cook for 6-8 minutes or until the chicken is no longer pink and is cooked through. Turn skewers over at least once or twice to ensure they cook evenly.
Remove skewers from the grill when completely cooked and transfer to a plate.
Serve with lime wedges and the sides of your choice.
The above recipe suggestion is offered by Dr. Shillingford, M.D., P.A., a board certified surgeon specializing in laparoscopic and obesity surgery. Dr. Shillingford's gastric sleeve, gastric bypass, and adjustable lap band patients come from all over South Florida, including Boca Raton, Fort Lauderdale, Miami, Delray Beach, and Coral Springs. Dr. Shillingford's bariatric weight loss patients are often seeking new recipes that taste good, are easy to prepare, and rich in protein and vegetables.