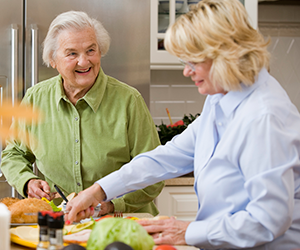 Do you want someone to eat more of what's good for them? We've got a hack for you! But, shhh, don't tell them. Give it a try and see how it goes before dishing the dirt.
It's simple: Use indulgent words to describe the food.
According to the study recently published in the Journal of the American Medical Association Internal Medicine, using words with rich imagery can help "sell" the food. If you're trying to get your reluctant significant other (or picky child) to eat something he or she might be a little hesitant about, try how changing how you describe it.
For example, if you make zucchini as a side to a lean protein as part of a post bariatric surgery diet, you could just say you are having "zucchini" for dinner. Other choices could be "lighter choice zucchini" or "nutritious green zucchini." But, if you want to give your dinner partner a better shot at eating the zucchini, you should describe it more like "slow roasted caramelized zucchini bites." See the difference? More indulgent descriptions will make it more likely the person will try it as compared to when basic descriptions, restrictive descriptions, and health conscious descriptions were used. Seriously. Up to 25% more likely, according to the study.
The somewhat weird part of the study showed that using health conscious descriptions (such as 'low sodium' or 'vitamin rich') actually made the diner less likely to eat it.
So, skip the health promoting words and put on your creative hat at mealtime! Think up some great descriptions for foods you think might need a little boost. We'll give you a few examples:
Tangy ginger bok choy
Sweet sizzling green beans
Twisted citrus-glazed chicken
Dynamite smoky chili
Zesty homemade eggplant lasagna
Maybe you'll need to tweak those for a picky child, but you get the idea.
Hopefully, this can be the push some people need to eat the foods they should be eating more of as part of their weight loss regime after gastric sleeve, gastric bypass, or lap band surgery. Touting the nutritional benefits doesn't seem to do the trick, so gear up your inventive language and get to losing weight and eating healthier!
The above suggestion is offered by Dr. Shillingford, MD, PA, a Center of Excellence Surgeon specializing in laparoscopic and weight loss surgery. Dr. Shillingford's gastric sleeve, gastric bypass, and lap band patients often come from all over Florida, including Boca Raton, Miami, Tampa, Sarasota, Orlando, and Jacksonville. His weight loss surgery patients are often seeking tricks to making the transition to healthier eating easier. For more healthy eating ideas, check out Dr. Shillingford's Facebook page.