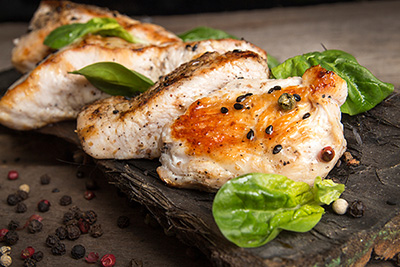 Are you a fan of Trader Joe's Everything But the Bagel seasoning? If you haven't tried it yet, it's like eating an everything bagel without the calories and carbs of a bagel. This makes it a great choice for people who are trying to lose weight, like Dr. Shillingford's gastric sleeve, gastric bypass, and lap band surgery patients. The one caveat for bariatric patients is that you have to be able to tolerate spices and poppy and sesame seeds. If you aren't sure if your new stomach can tolerate small seeds, it's best to wait before trying it.
If you know your post gastric sleeve stomach can handle Everything But the Bagel seasoning, and you're looking for ideas on how to add this delicious flavor to your gastric sleeve diet, we've got some ideas:
Use as a rub for your chicken: Whether you're roasting a whole chicken, chicken thighs, or chicken breast you can use the seasoning as a rub (with a little olive oil if necessary) and bake it to perfection!
In your eggs: This will make you feel like your eating your scrambled or fried eggs on a bagel (well, kind of). It also works well in a cheese omelet or a protein packed frittata.
In your salad dressing: If you make your own salad dressing (oil based or avocado based) you can add in some of this seasoning to add flavor.
In your mashed cauliflower or cauliflower rice: Mashed cauliflower and cauliflower rice can be bland on their own, but adding this spice this will kick the flavor up a notch. Pair it with chicken or salmon for protein.
Mix it in with popcorn: Not all gastric sleeve, gastric bypass, or lap band patients will tolerate popcorn. But if you have advanced in your post op gastric sleeve diet and know that you tolerate popcorn, adding Everything But the Bagel seasoning will add flavor to plain popcorn without the calories of adding butter.
As a crust for you salmon: Top your salmon with this seasoning before you bake it. Any leftovers will be perfect for adding to a salad with avocado.
If your post gastric sleeve surgery stomach can tolerate this spice blend, there really is no limit to the foods you can try this on. Just remember to focus on protein first, then vegetables as Dr. Shillingford recommends. Take small bites of your food and chew it well. For more information on weight loss with gastric sleeve surgery, gastric bypass, or lap band surgery with Dr. Shillingford, call his Boca Raton office today at (561) 483-8840. Dr. Shillingford, MD, PA is a board certified surgeon certified in daVinci robotic surgery and proudly serves as Medical Director of Northwest Medical Center's Center of Excellence in Bariatric Surgery.