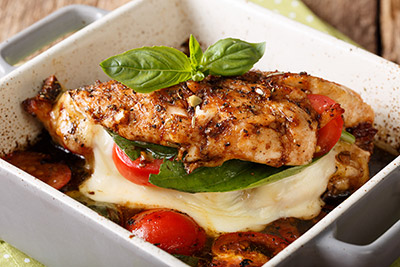 Chicken can be a staple of many gastric sleeve, gastric bypass, and lap band patient's diets. It's a great source of high quality protein, often low in fat, low in cholesterol. A 3 oz portion of boneless, skinless chicken breast has less than 130 calories, 24 grams of protein, 3 grams of fat, and no carbohydrates. That makes chicken a great food choice for bariatric patients to meet their protein goal while keeping their calorie intake low to promote weight loss.
The problem many people have with chicken is that it can get boring if you don't change the way you prepare it. Fortunately, chicken can be prepared numerous ways. One way you may not have seen is stuffing it from the top. Traditionally, stuffed chicken in butterflied in half and stuffed. But another way to stuff it is by cutting four to five slits along the top of the chicken breast (being careful not to cut all the way through) to create a pocket and stuffing it from the top before baking. The great thing about this method of cooking chicken in that you can change your flavor profile each time you make it.
We've got a few ideas to get you started:
Primavera Chicken- Add a slice of red onion, yellow pepper, and a half moon of zucchini, then sprinkle with Italian seasoning, and mozzarella and parmesan cheese.
Caprese Chicken- Add a half moon of tomato, a leaf of basil, and mozzarella.
Cordon Bleu Chicken- Add a slice of ham and a slice of swiss cheese.
Greek Chicken- Add sundried tomatoes, kalamata olives, feta, and oregano.
Veracruz- Add diced tomatoes, green olives, and capers.
Bake the chicken on a baking sheet at 400 degrees for 25 minutes or until it is cooked through and reaches a temperature of 165 degrees. If you are using chicken tenderloins or small chicken breasts, decrease the cooking time accordingly. Cut the chicken breast into a smaller, more manageable portion before serving, if needed.
Chicken breast is a food that Dr. Shillingford does not recommend his weight loss surgery patients eat early on after their gastric sleeve, gastric bypass, and lap band surgery. The breast can be too dry for many patients to tolerate. Instead, Dr. Shillingford recommends his bariatric patients try chicken thighs before chicken breast. Chicken breast should be reserved for patients who have successfully advanced to Stage 5 of their post op bariatric diet. But, even for some gastric sleeve, gastric bypass, or lap band patients chicken breast may still be too dry to tolerate well. Some of these flavor ideas may still be too dry for some patients. If you want to try this method of stuffing chicken, choose options that will add moisture and listen to your body, stop if you are not tolerating it.
This recipe is idea is offered by Dr. Shillingford, MD, PA, a board-certified surgeon specializing in advanced laparoscopic and obesity surgery. His gastric sleeve, gastric bypass, and lap band patients are often looking for new ways to meet their daily protein requirements after bariatric surgery, and this stuffed chicken can add protein and variety to their meals. For more recipes and nutrition information, like Dr. Shillingford on Facebook. To schedule an appointment to see if you qualify for gastric sleeve, gastric bypass, or lap band surgery, call his Boca Raton office today at (561) 483-8840 or visit https://www.drshillingford.com/am-i-a-candidate.html.