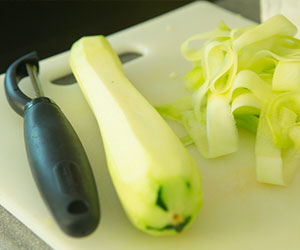 Social media is full of pictures and recipes that use vegetables in creative ways to reduce and replace carbohydrates. It's a great idea for two reasons: you can lower your carbohydrate intake and increase your vegetable intake in one move. This means overall less calories and more fiber all you still get to eat foods you enjoy and lose weight. The problem is just because the picture is pretty doesn't mean the food tastes good. Some things are better in concept than in practice.
Not to worry, we've got 5 ideas for substituting vegetables for carbohydrates that actually taste good. Tasting good and being good for you at the same time is like weight loss nirvana. It allows you to eat food you enjoy with fewer calories which promotes weight loss (as long as you keep your portions small). This concept is ideal for gastric sleeve, gastric bypass, and lap band patients as it promotes eating more vegetables and weight loss.
Lettuce Instead of a Bun
This works on for both buns and bread. Wrap your beef, chicken, or turkey burger with a nice big lettuce leaf for a bunless burger. If you put lettuce on your burger, this idea is a no brainer. Or, instead of bread or wraps, you can eat deli meats, tuna, egg salad, or chicken salad wrapped in a nice, strong green leaf.
Summer Squash as a Taco Shell
This may even make tacos less messy, so it's worth a try. Cut a summer squash lengthwise and scrape out the seeds using a big spoon. Blanch in boiling water for one minute. Add your taco fillings- seasoned ground beef or turkey, cheese, beans, salsa, onions, peppers- and bake for 30 minutes at 400 degrees. Serve with diced avocado or cilantro.
Zucchini or Squash as Pasta Noodles
This works well because zucchini is so mild and it naturally pairs well with Italian flavors. Green zucchini can be sliced into thin layers and used in place of lasagna noodles without compromising much is the way of flavors or texture. Another great substitution is spaghetti squash for spaghetti. Cooked spaghetti squash can be forked into long ribbons resembling spaghetti noodles and topped with marinara sauce and meatballs for the complete Italian experience.
Portobella Mushroom Caps for Pizza Crust
If you are a fan of mushrooms, this concept is perfection. And if you don't really like mushrooms, you should still give these a try, you might be fooled. That's alright if you're not a fan, you can still try eggplant or zucchini rounds as your pizza base.
Cauliflower for Mashed Potatoes
Trade mashed potatoes for mashed cauliflower and never look back. The idea is the same, mash or blend cauliflower with an immersion blender or food processor just like you do for mashed potatoes. Try adding cream cheese, butter, salt, and pepper for a traditional taste, or add in some cheese to kick it up a notch.
The above lower carbohydrate suggestions are offered by Dr. Shillingford, M.D., P.A., a board certified surgeon specializing in laparoscopic, robotic, and bariatric surgery. Dr. Shillingford performs gastric sleeve, gastric bypass, and gastric band surgery at one of South Florida's few hospitals designated as a Center of Excellence for Bariatric Surgery by the American Society for Bariatric Surgery. Some of his patients come from local areas, such as Miami and Fort Lauderdale, but his reputation and skill also attract patients from as far away as Orlando, Jacksonville, Sarasota, Tampa, Fort Meyers, and Naples.