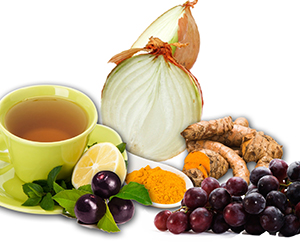 Inflammation is a normal process in the body. It is the body's attempt at self-protection, a way of removing harmful stimuli, irritants, damaged cells or pathogens. Acute inflammation is the fast response of the body to remedy the problem and begin the healing process. We see acute inflammation in conditions like bronchitis, sinusitis, appendicitis, wounds of the skin, sore throat, or the flu. The inflammation resolves itself usually quickly.
But, chronic inflammation can last much longer and lead to more serious consequences. Chronic inflammation, which can last from months to years, can be seen in conditions like asthma, ulcers, arthritis, colitis, hepatitis, and periodontitis. This chronic, uncontrolled inflammation has been linked to many major diseases, including cancer, diabetes, heart disease, Alzheimer's disease, and rheumatoid arthritis.
In order to reduce inflammation in our cells, people often turn to medications like NSAIDS or steroids. But we can also help fight inflammation with our diet. Some foods have shown contribute to reduced chronic inflammation. While a variety of foods show at least some benefit to inflammation, the following five foods are particularly beneficial to reducing chronic inflammation:
Onions
Turmeric
Red grapes
Green Tea
Acai Berries
Luckily, these foods are easy to incorporate into your diet, even for gastric sleeve, gastric bypass, and adjustable lap band patients seeking weight loss. Onions can be added to a wide variety of foods, from salads to soups, cooked vegetables, meats, fish, and even whole grains, like quinoa or brown rice. Turmeric is a spice that can be added to proteins, grains, and even tea (find out more about Turmeric and get our recipe for Turmeric tea here ). Red grapes make a great snack, or can be incorporated into salads. Green Tea makes a great beverage during the day in place of soft drinks or as an afternoon pick me up. Acai berries are not found at the grocery store like grapes, but acai juice is more readily available and can be used in smoothies.
By incorporating these foods into your diet, you can help protect your body from the unwanted effects of chronic inflammation. While these 5 foods can not be considered a cure-all in terms of inflammation, adding them to your diet can help in your efforts to reduce inflammation.
The above is offered by Dr. Shillingford, M.D., P.A., a board certified surgeon specializing in advanced laparoscopic and obesity surgery. Dr. Shillingford's Boca Raton office serves patients from all over South Florida including Delray Beach, Coral Springs, Parkland, Wellington, and as far north as Orlando and Jacksonville. His gastric sleeve, gastric bypass, and lap band patients may experience some acute inflammation after their bariatric procedures, which is a normal surgical reaction, but chronic inflammation should also be reported and monitored. These 5 foods can be added into a post bariatric surgery diet when needed to help reduce chronic inflammation.