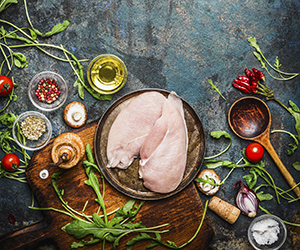 During the week, many people are busy: work, meetings, the gym, kids. Before you know it it's dinnertime. Instead of picking up fast food or takeout, try this quick and easy chicken dinner. You will most likely have all or most of the ingredients in your house, which is a good start to an easy dinner at home.
Chicken, mustard, honey, and worcestershire sauce. That's it. If your chicken is defrosted, this recipe can be made quickly. While the chicken is baking, you can prepare your sides, or help your kids with their homework, empty the dishwasher, or take the dogs for a walk.
Chicken is generally a crowd pleaser, so this dinner may become a favorite of the whole family. The chicken provides high quality protein, which is important for gastric sleeve, gastric bypass, and lap band patients. Use whole grain mustard to provide beneficial anti inflammatory properties. Try local honey, which may help reduce allergies.
Bariatric patients should concentrate on eating their protein first, before moving on to the side dishes. That's an easy task with chicken as tasty as this. Cauliflower rice, baked sweet potato, brussels sprouts, or green beans would pair nicely with this tangy sweet dish.
4 Ingredient Weeknight Chicken
4 boneless skinless chicken breasts
½ cup whole grain mustard
1 tablespoon worcestershire sauce
2 tablespoons of honey

Directions:
Preheat oven to 350 degrees.
In a small bowl, whisk together honey, mustard, and worcestershire sauce.
Rub mixture all over chicken breasts and place them in a baking pan.
Bake for 30-40 minutes or until thoroughly cooked, turning halfway through.
This easy weeknight dinner idea is offered by Dr. Shillingford, M.D., P.A., a board certified general surgeon specializing in advanced laparoscopic and obesity surgery. Dr. Shillingford's gastric sleeve, gastric bypass, and lap band patients are often interested in recipes that are high in protein and easy enough to make on busy weeknights. Dr. Shillingford's bariatric patients come from all over Florida, including Boca Raton, Delray Beach, Hialeah, Wellington, Deerfield Beach, Miami, and Fort Lauderdale, as well as far away as Jacksonville, Tampa, and Orlando.