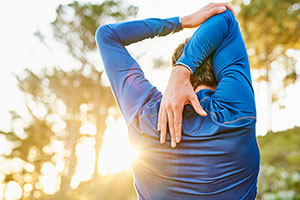 Summer in Florida can be hot. Really hot. Like standing next to the sun hot. Despite the heat, bariatric surgery patients still need to exercise to help promote weight loss, build muscle, and improve their body and mind. But how do you exercise in the heat without getting heat stroke or dehydration?
We've got 3 tips to help gastric sleeve, gastric bypass, and lap band patients get their exercise in when it's hot out.
Exercise Early (or Late)
The best time to exercise is when it's not too hot out, which is early morning or when it's dark. Mornings are great as it's bright but not too hot. Plus exercising in the morning can set your day up for making positive health decisions. Walking, jogging, and biking can make great morning workouts. Exercising at night is trickier, especially when it's dark. If you have access to a court with bright lights, a game of tennis or basketball can be a fun evening activity that is definitely better for you than sitting on the couch.
Try a Water Workout
One way to beat the heat is to cool off in the water. If you have a pool, water aerobics can promote weight loss and strengthen muscles while keeping you cool. Swimming laps can also be a good cardio workout. If you like the ocean, stand up paddleboarding, surfing, and snorkeling can also be great workouts.
Take it Indoors
When the daytime is your best time to exercise, it may just simply be too hot outside to exercise safely. One factor to consider is that bariatric patients may be at a higher risk of dehydration since they aren't able to drink as much at one time as someone who hasn't had gastric sleeve, gastric bypass, or gastric band surgery. If you need to exercise during the day, consider taking your exercise indoors. Your local gym, barre studio, or yoga or pilates class can be a great choice for a workout. If you can't make it to a class, consider working out in your air conditioned home. Aerobic or strength training videos can be great calorie burners, and if you have the room try jump rope exercises.
Exercise is vital to good health and is one of the cornerstones of weight loss, even after gastric sleeve, gastric bypass, or lap band surgery. Exercise can lead not only to weight loss, but can also help control blood sugar levels, improve blood pressure levels, improve muscle tone, and boost our self esteem. After bariatric surgery, it's important to incorporate exercise into your new lifestyle, even when it's hot outside.
The above suggestions are offered by Dr. Shillingford, MD, PA, a board certified surgeon specializing in advanced laparoscopic and bariatric surgery. Dr. Shillingford is a leader in South Florida for gastric sleeve, gastric bypass, and lap band surgeries. Dr. Shillingford's patients come from all over Florida, including Boca Raton, Miami, Tampa, and Jacksonville, for his surgical expertise, comfortable bedside manner, and affordable out of pocket prices for gastric sleeve, gastric bypass, and gastric band surgery. To schedule a free Informational Session, call Dr. Shillingford's office today at (561) 483-8840.