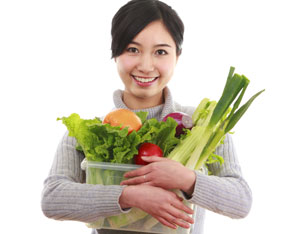 Researchers at Cornell reviewed 112 different studies to collect information about healthy eating habits. They found that three reasons why healthy eaters ate healthy were that nutritious foods were available to them (convenience), made to look enticing (attractive), and appear like an obvious choice (normal). "A healthy diet can be as easy as making the healthiest choice the most convenient, attractive, and normal," said Brian Wansink, Ph.D., Director of the Cornell Food and Brand Lab. "With these three principles, there are endless changes that can be made to lead people — including ourselves — to eat healthier," Wansink explained.
By making changes in our food and shopping routines, we can incorporate these principles to help lead us to better food choices. Let's take a deeper look at each principle to see how it can be used to elicit improved eating habits that last.
Convenience
By making the best choices the most convenient for us, we are encouraging ourselves to choose the best over the less healthy, less convenient counterpart.
Cut up fresh, whole fruit into bite sized pieces and place in a see through bowl in the refrigerator. When you are looking for a snack, you will be more likely to grab watermelon when it's cut in a bowl then when it's whole.
Consider buying your vegetables cut up. Items like cauliflower, broccoli, celery sticks, grape tomatoes, and baby carrots may be more convenient for you if you can easily grab a handful to snack on instead of having to cut them up. Also, give them a place of prominence in your refrigerator instead of burying them in the crisper.
If you make a large batch of food, put portions in individual containers to make them easy to grab for lunch or freeze for a dinner when you're running short on time.
Attractiveness
Consider the presentation- how you store, prepare, and serve healthy foods may make them more interesting or enticing. You don't have to be a food stylist to make a few simple changes to make your better choices more attractive.
Cottage cheese looks more appealing served in a glass parfait dish with alternating layers of cheese and freshly diced strawberries rather than eaten out of the plastic container.
Storing foods in interesting containers may help entice you to eat them. A salad stored in a mason jar seem more appealing than when it's still in the bag.
Water may appear more attractive in a colored water bottle than from a clear glass.
Normal
We are more likely to eat something we consider normal than one that is foreign to us. Make the best choices seem like the most obvious choice. This may take some time and support to break old habits.
You may not be ready to completely ditch soda for matcha tea. But by slowly incorporating matcha tea into your daily routine (start with a cup after lunch, or by adding matcha powder into your smoothie) it will seem more regular to you and become a more normal choice for other times of the day.
Pick a day of the week to expand your food horizons. For example, if you'd like to incorporate more fish into your diet, start with "Fish Fridays." Every Friday you can try a different fish or fish recipe. Soon you'll be eating fish every Friday without thinking about it and may even start eating fish other days of the week by choice.
Try bringing your lunch to work. By "brown bagging" your lunch regularly, you have greater control over what you are eating and how much. You may even be a catalyst to encourage your coworkers to bring lunch more often. When bringing your lunch is a habit, you may find yourself planning your lunches ahead of time, and saving yourself both time and money, while improving your food choices.
The above ideas are offered by Dr. Shillingford's staff at his Boca Raton office for advanced laparoscopic bariatric surgery. Dr. Shillingford is well known for lap band, gastric sleeve, and gastric bypass weight loss surgeries, which attracts clients from Miami, Ft. Lauderdale, Tampa, Orlando, Delray Beach, Boca Raton, and as far away as Georgia and New York. In addition to performing adjustable lap band, gastric sleeve, and gastric bypass surgeries, Dr. Shillingford also promotes positive lifestyle changes for his patients.