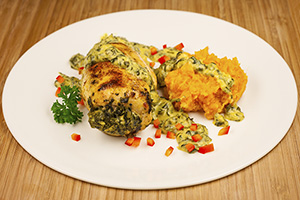 What's better than combining the sweetness of sweet potato with the tang of barbecue chicken? It's like they were made for each other.
Sweet potatoes are a great choice for bariatric patients because they are rich in many vitamins and minerals (A,C, manganese, copper, B6, and potassium), high in fiber, and provide carbohydrates that actually help improve blood sugar. One more major benefit is that you can choose your size to fit the portion your stomach can handle. The bin at the grocery store is usually full of different sizes of the tuber, from small to large and everywhere inbetween. Because this recipe calls for adding your protein to your sweet potato, the size of the sweet potato will determine your portion. Choosing a smaller potato will make for a smaller portion, and larger sweet potatoes can be available for other family members, making this a great family meal.
One more nice thing about this recipe is, with only 3 ingredients, you will likely have them all on hand. Chicken, sweet potatoes, and barbecue sauce are all that's called for in this recipe. It's also a great way to use leftover chicken and turn it into a tasty new meal. Whether it's leftover whole roasted chicken or chicken breasts, just shred it and watch it transform into a delicious lunch or dinner. Although microwaving the sweet potato can make this into a quick dinner, baking it in the oven caramelizes the sugars in the sweet potato, creating a dinner that also feels a little like a dessert. Gastric sleeve, gastric bypass, and lap band patients can get the sweetness they crave, while eating a healthy dinner that's high in protein and fiber, and can still be a part of their weight loss diet.
3 Ingredient BBQ Chicken Stuffed Sweet Potatoes Adapted from www.thecomfortofcooking.com
Ingredients:
2 medium sweet potatoes, halved
1 pound boneless, skinless chicken, cooked and shredded
⅓ cup BBQ sauce (more/less, to your taste)
Directions:
Preheat oven to 425 degrees. Place sweet potatoes cut side up on a large baking sheet. Bake until tender, about 35 minutes depending on the size of your potatoes.
When the potatoes are almost done, warm a saucepan on medium low. Stir together shredded chicken and BBQ sauce. Heat until warm, 5-10 minutes.
Top each potato half with scoops of chicken. Spoon additional BBQ sauce on top if desired. Sprinkle with fresh parsley or chopped green onions, if desired.
The above recipe is offered by Dr. Shillingford, M.D., P.A., a board certified surgeon specializing in laparoscopic and obesity surgery. Dr. Shillingford's gastric sleeve, gastric bypass, and lap band patients come from all over South Florida including Boca Raton, Delray Beach, Wellington, Miami, Fort Lauderdale, and Parkland. His bariatric patients are often seeking recipes that taste good, are high in protein, and fit into their post surgical weight loss diet.